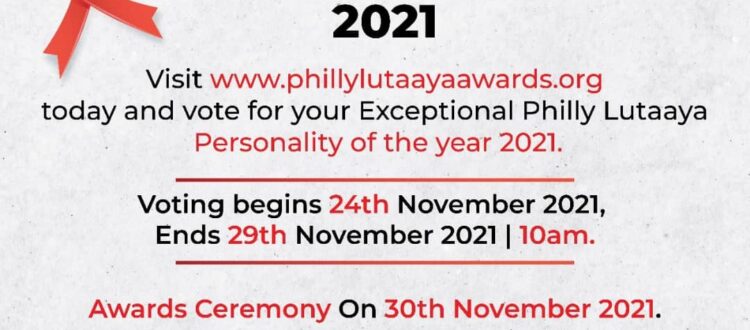 The Legacy of Philly Lutaaya
Born to Sing
Born on 19th October 1951, Philly Bongoley Lutaaya left behind a legacy so significant, it has cemented him on the Mount Rushmore of the greatest artists that Africa has ever seen. The impact of his music has transcended the continent and reached every corner of the planet.
Dr. Alban, a Sweden-based Nigerian musician, once said he considered him one of the best musicians to come out of Africa. As an honorable gesture, Dr. Alban named one of his own albums after Lutaaya's "Born in Africa."
From his timeless Christmas Album that continues to highlight the festive season every year in Uganda, to his last album, "Alone and Frightened," that boldly highlights the last days of his life as he battled the disease that would later be known as AIDS, Lutaaya's legacy is unparalleled.
It is believed that the secret behind Lutaaya's genius was the sheer level of will and effort that he poured into his work. Apparently, he would play the guitar, drums and trumpets on his own songs. With this kind of versatility, it's no wonder his music echoed beyond borders, creed and religion.
Alone and Frightened
On a visit from Sweden, the Ugandan legend read out a statement that would set in motion his living legacy.
"Fellow comrades of Uganda. It is with utmost regret that today, I inform you that the sickness bothering me has been diagnosed as AIDS," he said. "Surely, this will no doubt be a shock, but it's true; I am one of the victims or this dreaded disease, AIDS."
In retrospect, it's easy to take for granted what Lutaaya was able to accomplish. But we must not! We must remember that before he came out and spoke publicly about his status, the world was in a dark place as far as HIV/AIDS is concerned.
The disease was a death sentence. As scientists around the world scrambled to find effective treatment, the stigma train was gaining steam, with no end in sight. Misinformation fueled public ignorance to unspeakable levels.
"People didn't know how it was transmitted. When families tended to their sick relatives without proper precaution and ended up getting sick, people thought it was witchcraft. So they put a cloth on the doors of their home to say everyone here has died," said Catherine, a businesswoman, as she recalled the struggle with the disease in the 80's.
Overseas, it wasn't any better. In 1991, the medical establishment in the United States was under fire regarding the existing legislation for HIV testing for health workers.
"The great anxiety of the early AIDS epidemic was that science and the medical establishment had failed us. They hadn't protected us," said Malcom Gladwell, a renowned journalist.
The world was in a dark place and so it's easy to see why immediately after Lutaaya's announcement, the New Vision ran this front-page headline:
"Lutaya has AIDS."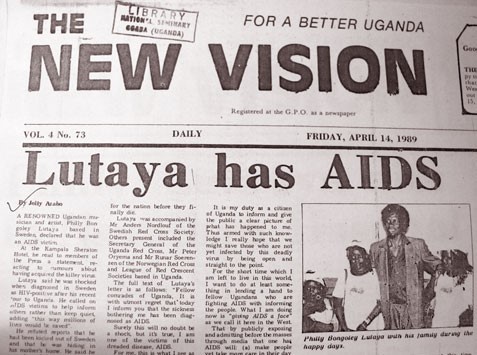 In the midst of it all, there was a light, a bright shining light, and it was Lutaaya in his magnum opus performance. In his song "Alone," which he recorded shortly after going back to Sweden, he sung, "Out there somewhere, alone and frightened of the darkness, the days are long, life is hiding, no more making new contacts, no more loving arms around my neck."
The depth of humanity in his words trapped the world in an irresistible embrace. It didn't matter who you are or where you're from, when you heard those words, you stopped to listen and reflect.
On what inspired him to write this song, Lutaaya said, "I wanted to put something down, something musical, something artistic about my feelings and about the feelings of others, what I thought were the feelings of other AIDS patients, the feeling of helplessness, the feeling of loneliness. I wanted to express what I felt within myself."
In his masterpiece, he reminded us about the most powerful thing we can offer each other as human beings, and that's love. He reminded us to empathize and give each other hope. And above all, he reminded us about who the real enemy is.
He sung, "today it's me, tomorrow someone else, it's me and you, we've got to stand up and fight. We'll shed a light in the fight against AIDS. Let's come on out. Let's stand together and fight AIDS."
And with these words, we will stand today, in the light of his legacy, fighting to end the AIDS epidemic by 2030.