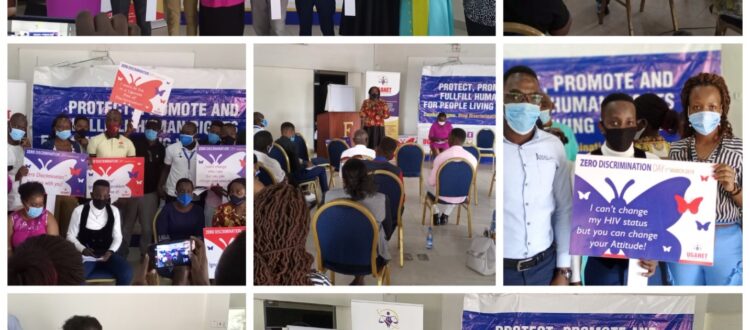 UGANET Calls on Government to Remove Discriminative Laws for PLHIV on Zero Discrimination Day 2021
Uganda Network on Law, Ethics and HIV/AIDS (UGANET) has held a dialogue on how to end discrimination in Uganda at the Fairway Hotel. The dialogue was held in commemoration of Zero Discrimination Day 2021, which happens every March 1st.
Following this year's theme; "Ending Inequalities," UGANET called upon the government to prioritize sexual and reproductive health rights for women and girls living with HIV/AIDS.
Dora K. Musinguzi, Executive Director, UGANET, led the call saying that "Discriminative laws lead to not only increase in discrimination of People Living with HIV (PLHIV), especially the women and girls, but also to unnecessary exposure." "HIV is not a weapon for abuse or disrespect. Let us stand up together and all say end HIV discrimination," Dora added.
Besides, she added that "There are clear indicators which show that if we did what we are supposed to do, the fight against HIV/AIDS would be close to over."
Giving his testimony on HIV stigmatization, celebrated TV Host and MC, Edwin Katamba aka MC Kats said that he had to come to terms with the fact that he was living with the virus and that he was not going to die from it. This was after a rough time especially when his status was revealed and a lot of stigmatization came from the public.
"Every opportunity I get, I tell people that even with their HIV positive status, they can still live and have an impactful life," said MC Kats.
Additionally, considering that many young people, who make up the majority of Ugandans, are on social media platforms, UGANET pledged to use social media to further the cause to raise awareness on the negative impact of stigma and discrimination of PLHIV.
This came after Joanita Kawalya, a legendary musician with Afrigo Band, cautioned that "The young people need to be reached in spaces they are comfortable in and made aware of what HIV really is. Many honestly don't know what is all about." She said
Rev. Canon Gideon Byamugisha agreed within this respect adding that "Even those that we believe are experts on the subject may not really know much about HIV. Information on the subject needs to continue being disseminated to everyone in the country." As the dialogue was coming to an end, UGANET expressed its intention to continue highlighting the gaps in policies, laws, and practices that discriminate and encourage duty bearers to address them as well as standing in solidarity with the marginalized and key populations that continue to suffer social injustice, stigma, and discrimination.