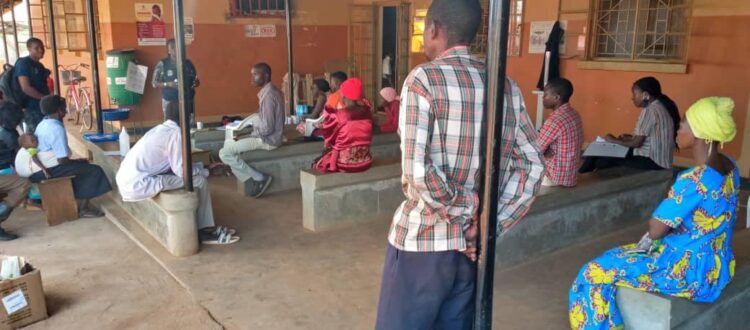 Hundreds Benefit from UGANET Training and Sensitization Programs
KAMPALA, Uganda – According to Falal Rubanga Faith, Head of UGANET's Partnership & Trainings Department, from July to around September 2019, UGANET carried out training of duty bearers (who include police and local authorities) and different constituents like people living with HIV (PLHIV), TB patients, GBV victims, among others, which is part of the department's functions.
During these trainings, these groups of people were enlightened on their right to access drugs and health care, where to access legal aid, and who to call in case of their different needs.
This exercise, that was also a fact finding mission, saw the team traverse over 20 districts including; Mbale, Iganga, Busia, Moroto, Hoima, Kalangala, Masaka, Kasese, Buikwe, Bukwo, and Kotido among others.
While in the field, the team got to learn about a nurse (name and actual district withheld for her safety) who had been suffering for eight (8) months after the community in which she was serving discovered that her husband had died of HIV.
She was removed from the payroll, and transferred to a far-to-reach area. This went on for eight months and her efforts to seek help were in vain. UGANET supported the nurse by bringing the matter to the district leaders and the LC5 who had her reinstated back to her position with full benefits. This happened between July and September of 2019.
In another related story, a widow in Gulu District whose husband also died of HIV was being displaced from her home, just a week after her husband's death (a practice that is unfortunately common in the Northern region).
She stated that the late husband's family wanted his youngest brother to take over the property even though he had been a guest of the home before.
"Through our legal teams, we were able to help her secure her husband's property for her children and herself," Falal said.
When the COVID-19 related lockdowns began, many people were affected including many vulnerable people living with HIV and TB. This was exacerbated by the fact that for a time, everyone was not able to move freely.
However, because constituents had been in the meetings organized by UGANET training team, also attended by different duty bearers through their formed groups, the field officers were able to reach out to RDCs and District Health Officers to help them access drugs like ARVs and also aid them to create their own distribution channels to help those who couldn't reach the centers where the drugs were being distributed.
In Hoima and Bukwo, among other districts where training was conducted, some used bicycles to carry out this activity.
Furthermore, through such groups, the district authorities were able to track PLHIVs and get them drugs wherever they were.
"A lady in Amudat who had attended the Moroto meetings organized by UGANET was able to call in asking for help on her ARV refill and she was helped," Falal added.
These and many more similar stories have been documented by UGANET from its programs. The organization is proud to contribute to this fight against stigmatization of PLHIV and TB, and fighting against GBV. Even further, through the Call Center and Shelter Home, UGANET is able to become easily accessible to those in need, and provide protection and security to the survivors across the country.
UGANET implores other civil society organizations, the government and relevant organizations to join this cause of sensitizing the population about their rights and working together to empower communities.