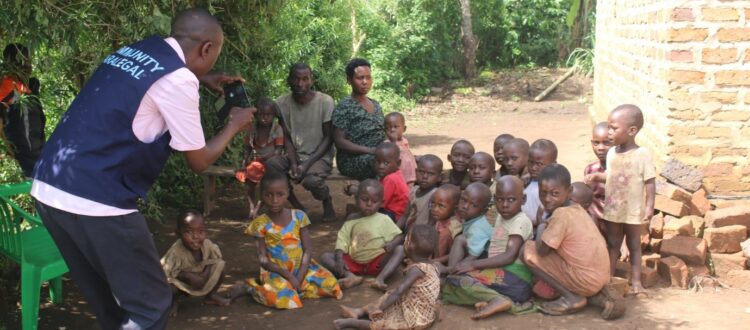 Kagadi Paralegal Brings Abusive Father to Order
In addition to day to day challenges, Paralegals are key in handling complex conflicts in their communities. This is so because of their close connection and proximity to the communities, but also, because of the the trust they have earned from the community members overtime.
Joan is a five-year-old girl whose father Mugabe, chased her mother away from their home when she was only a baby. The man equally sold the family property on which they lived after he chased the subsequent women he married after Joan's mother left.
Joan was however lucky to be taken on by her paternal aunt who has since been her guardian, together with her husband.
"She was very young, and her mother had decided to remarry far away from here, so my husband and I decided to take care of the child. Mugabe had been misbehaving for a long time" Said her aunt who also has her own biological children.
During an assessment exercise by a church based organization that supports vulnerable children in Kibuga cell, Nankulabye sub county, Kagadi district, little Joan was identified among the children eligible for support. She was indeed gifted with a hen and a brand new mattress.
When Mugabe learnt about her gifts, he came home and forcefully grabbed Joan's gifts and sold them to people in the neighborhood.
But a well-wishing community member learnt about the development and reported the matter to UGANET paralegal Tulyatunga Herbert who immediately went to the home to establish the facts about the reports.
"It is quite disturbing that a parent of a child could behave in such a manner. But when I established that it was true, I had Mugabe and the people he sold the properties to arrested by the police." Said Tulyatunga
After spending two days in the cells, the perpetuators bought a new mattress for Joan and were cautioned against further misbehavior.
"We thank Mr. Tulyatunga for heeding to our call. Our efforts to prevent Mugabe from selling the girl's properties were futile. He forcefully stormed our house and removed them. He has failed to stop abusing drugs." Said Mugabe's sister.
Joan's caretaking family further appreciated UGANET for the visit and urged them to return more often.
People who cannot afford the expensive national justice system are continually seeking help from paralegals, first because of their proximity to their communities, but also because of the free service provision and fair hearing of their matters. Paralegals are also key partners in the provision of legal aid services and mediations.
"The role of paralegals expedites the process of access to justice that would otherwise take longer if left to state institutions and that is why we are empowering them in order for them to be able to handle cases at their level." Said Grace Nayiga the head of the Legal Aid departmet at UGANET.
The team of legal officers from UGANET secretariat that were in Kagadi on a mission to offer free legal services to communities were also able to resolve a long standing dispute of a one Godfrey and his wife of six children, who he had threatened to murder for birthing two children out of their marriage. Lawyer Orishaba, David and Linda at the Bwikara Police station sat through a mediation that lasted for over six hours, explaining the law and providing windows of how the dispute could be amicably resolved.
The couple eventually agreed to separate, with Cate the wife returning to the father of her two children. Counsel Orishaba wrote a letter to that effect clearly indicating what had been agreed on. All the parties including the police received a copy of the agreement.