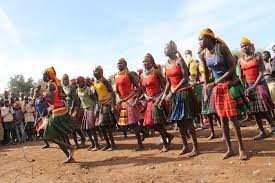 More Women Denied Bodily Autonomy by FGM
Ntinda, Kampala – More women and girls in Uganda, especially in the Eastern and North-Eastern parts of the country are being denied their bodily autonomy by being forced to undergo Female Genital Mutilation (FGM).
The Uganda Network on Law, Ethics and HIV/AIDS (UGANET) has established that many girls of school-going age are now exposed to FGM because of the lockdown, which has robbed them of the protection previously provided by anti-FGM advocates.
Fighters of FGM are now curtailed by lockdown rules like travel restrictions and anti-gathering rules to do their work
Dr Loyce Nangiro, a medical doctor at Amudat hospital says that she has treated girls who have been forcibly forced to undergo FGM by their relatives, including their own mothers, ostensibly to prepare them for marriage.
"in my own ward, I have had to manage the complications that come with FGM. I interviewed some of the mothers and asked them casually why they cut their children and one of them said it was their culture as Pokots and that they have grown up practicing it," Dr Nangiro says.
"Another one told me that they cut their daughters for marriage because when one is cut, they are ready for marriage and if you are not cut, no man is going to marry you," she adds.
Dr Nangiro notes that girls are also forced to undergo FGM because if they don't, they are considered to be unclean, according to the culture of most of the tribes in the Karamoja sub-region.
Grace Nayiga, the Head of Legal Aid and Community Justice at UGANET agrees that most of the girls who undergo FGM do so involuntarily.
"Most of the people that undergo FGM are young girls and this act is encouraged by their own family members. And yet they are locked down and trapped with them," Nayiga says.
UGANET calls for strict re-enforcement of anti-FGM measures because many girls risk being deprived of their natural-given right to decide what to do with their bodies.
NGOs and other civil authorities should also step up efforts to revitalize the existing anti-FGM structures through community paralegals and voluntary health workers to aid in fighting the vice and restore the bodily autonomy of millions of girls in Uganda.