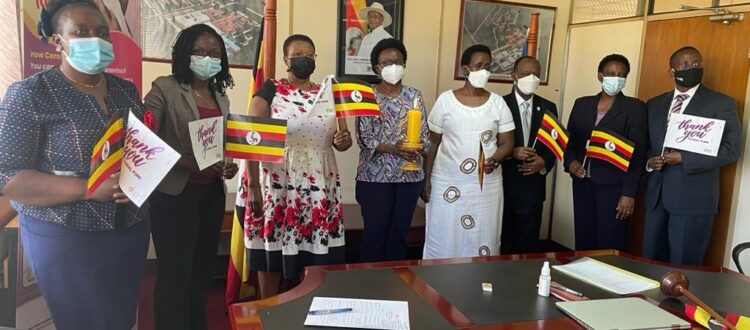 UGANET, CSOs Pledge to Continue Working with MoH to Remove Legal and Human Rights Barriers to Access for Health Services
Ntinda, Kampala – The Uganda Network on Law, Ethics and HIV/AIDS (UGANET) and other Civil Society Organizations (CSOs) on the event of the Global Fund's 20th anniversary have pledged to continue working with the Ministry of Health in order to ensure access to health services.
The Executive Director of UGANET, Dorah Kiconco Musinguzi made this pledge in a speech, which she made on behalf of the civil society community to commemorate the Global Fund's 20th anniversary on August 18th.
"Civil society communities continue to pledge to work with you so that the funds that are allocated to removing legal and human rights barriers to access for health services are effectual," Musinguzi said.
She also applauded the health ministry for being "the lead advocate on issues of law reform" and for introducing the Health Bill as well as President Yoweri Museveni for returning the Sexual Offences Bill back to Parliament for more consideration.
"Thank you for introducing the Health Bill which we believe will address all non-progressive issues that were in other laws that have been posing conflict over public health goals and disease prevention, HIV in particular," she said.
She also commended the leadership of the health minister and Global Fund processes that have enabled integration amongst diseases, integration of communities, integration of resources for communities and human rights integration.
She remarked that integration amongst diseases had helped the civil society community to be united, which has broadened their horizons because they came to the realization that they are health advocates that should mobilize and address all diseases in one concerted voice.
On integration of resources to communities, Musinguzi said that the civil society actors and communities receive resources to address priorities of the national disease responses.
"We are grateful for TASO (The AIDS Support Organization), the second principal recipient through which communities receive allocations. In the current NFM 3 alone, TASO will extend funds to 350 CBOs (Community Based Organizations), 13 SSR and 6 SR," she revealed.
The Global Fund is an international financing and partnership organization that aims to attract, leverage and invest additional resources to end the epidemics of HIV/AIDS, tuberculosis and malaria, to support the attainment of the Sustainable Development goals established by the United Nations. The Global Fund was founded in 2001.