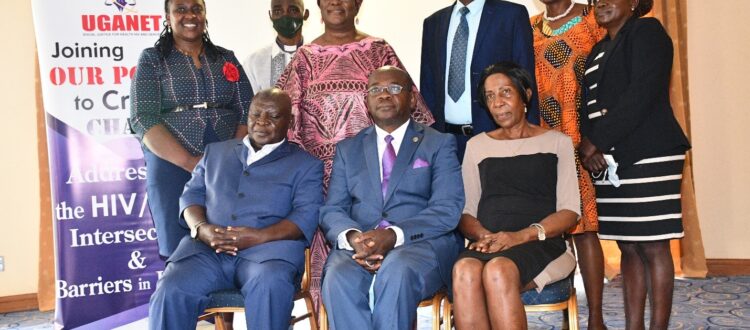 UGANET Holds Successful BOD Handover
On Monday 3rd May, 2021, Uganda Network on Law, Ethics & HIV/AIDS (UGANET) held a successful Board of Directors handover.
The handover took place at the Golf Course Hotel in Kampala, moderated by speaker Jack Musali, a certified coach with Johnmaxwell.
The meeting was flagged off by UGANET executive director Dorah K. Musinguzi.
"The intention today is for us to have a formal handover and pass on the baton from one team to another which is going to propel us to another level." Dorah K. Musnguzi noted before handing over the microphone to the moderator.
The previous Board of Directors (BOD) had served in various capacities since 2005, led by Mr. David Baguma as Chairperson of the board.
The incoming BOD will be chaired by Mrs. Sarah Lubega, Senior Counsel and Partner at Fredrick, Francis and Associates.
Mrs. Lubega, a lawyer by profession, is one of the founders of Uganda Women Entrepreneurs Association Limited (UWEAL) and other reputable institutions in Uganda. She is passionate about transforming women lives through entrepreneurship and building business acumen. She also serves as the Vice Chairperson of the Kyambogo University Council.
She will be deputized by Reverend Canon Gideon Byamugisha, a prominent figure in the international HIV/AIDS community. He is the Founder of Friends of Canon Gideon Foundation, an organization engaging and empowering children, young people, women, men, families, communities, and nations most-at-risk of, challenged, and oppressed by HIV & AIDS.
The new Secretary of the board is Dr. Yusuf K. Nsubuga, an educationist and retired Senior Commissioner for higher education at the Ministry of Education. He possesses a wealth of experience in issues of HIV/AIDS and human rights. He is renowned for his advocacy on the girl child education programs aimed at addressing gender inequalities in Uganda.
Other Members of the Board include:
Jacqueline Ayuya Mukasa, a Management Specialist. Jacqueline has over twenty years of work experience in finance, administration, operations, and training in the non-profit industry. She is currently a Senior Finance Admin & Operations Manager at International Foundation for Electoral Systems (Uganda).
Margaret Kasiko, a Specialized Gender and Development Professional. She has over ten years of specialized experience working as a Gender and Development professional with a variety of institutions including Civil Society Organizations, NGOs, Government institutions, and Donor Organizations.
Noeline Kaleeba. She is the Co-founder of The AIDS Support Organization (TASO). Kaleeba worked as the Executive Director of TASO Uganda for eight years until 1995 when she retired. She has also worked as a Program Development Adviser, Africa for the Joint United Nations Programme on HIV/AIDS (UNAIDS) among others.
Beatrice Were, an HIV & Human Rights Activist. Madam Were is an award-winning HIV/AIDS and women rights activist. She has contributed immensely to the struggle for the rights of Persons Living with HIV (PLHIV) and vulnerable women. She served as the HIV/AIDS Advisor of Oxfam South Africa and currently oversees several development programs in Africa.
Outgoing board chairperson, Mr. Baguma urged the new board team to "take the organization to even greater heights."
After the handover ceremony, the new board together with the Executive Director held their first ever board meeting, that was majorly intended to help the team know each other.
The UGANET family warmly welcomes the new Board of Directors and looks forward to working together to advance UGANET's vision and mission.