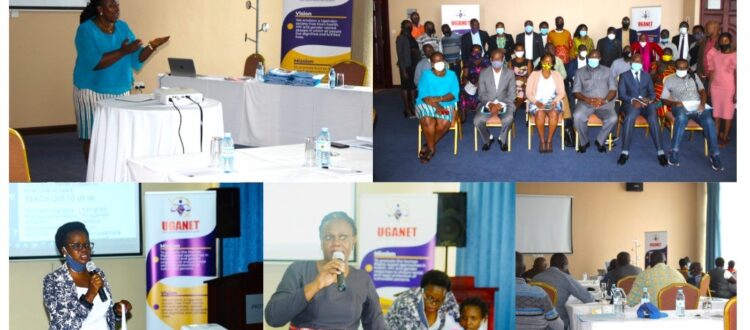 Hundreds of MPs attend First ever 'Core Parliamentary Committee on HIV, TB, and the Law Symposium'
KAMPALA, UGANDA – On December 1st 2020, Uganda Network on Law, Ethics & HIV/AIDS (UGANET) commemorated the World AIDS Day hosting a week-long symposium dubbed Core Parliamentary Committee on HIV, TB, and the Law Symposium at the Protea Hotel in Entebbe.
The symposium, organized under the theme; "Creating an Enabling Environment for People Living with HIV and TB – The Role of Members of Parliament", is the first of its kind that UGANET has held. The event saw over 100 Members of Parliament in attendance.
Dora K. Musinguzi, the Executive Director at UGANET, highlighted that the symposium' aim was to tackle the rampant cases of criminalization and discrimination of persons living with HIV (PLHIV) in the country.
"The symposium's end goal is to repeal, amend or otherwise enact better laws that protect PLHIV from discrimination and criminalization," she said.
As it is, the particular sections of the law which were being discussed to be amended include, among others, Sections 18(2)(e) 41, 43, and 46 of the HIV and AIDS Prevention and Control Act, 2014.
The Executive Director also added that, "The law directs policy and funding too. We cannot ignore or undermine its importance in the cause to end HIV stigma and discrimination."
UGANET has so far met with MPs from different committees, including, the HIV Committee, Equal Rights Committee, Human Rights Committee and Budgeting Committee among others. It continues to engage Members of Parliament in a dialogue that will see these laws amended to accommodate all the improvements and milestones reached in the HIV/AIDS space.
"We need to know how to balance Public health but also not undermine the human rights of the PLHIV," said Prof Ben Twinomugisha, a Lecturer & Senior Law Academician.
Several issues were raised by the MPs present including Hon Simeo Nsubuga, MP, Kassanda South, who held that, "Medical practitioners are required by law to disclose the HIV status of a suspect in court. This is in breach of the privacy of human beings and needs to be addressed."
"I know many PLHIV who fear getting medicine in their localities. We should look at home based testing and counselling as an alternative too," added Hon Aogon Silas, MP, Kumi Municipality.
Through this symposium, UGANET will equally engage with the Judiciary and other government stakeholders to better the lives of persons living with HIV in Uganda.
This is in line with its mandate to bring together organizations and individuals who are interested in advocating for the development and strengthening of appropriate policies and legal frameworks as an ethical response to Health and HIV/AIDS in Uganda.