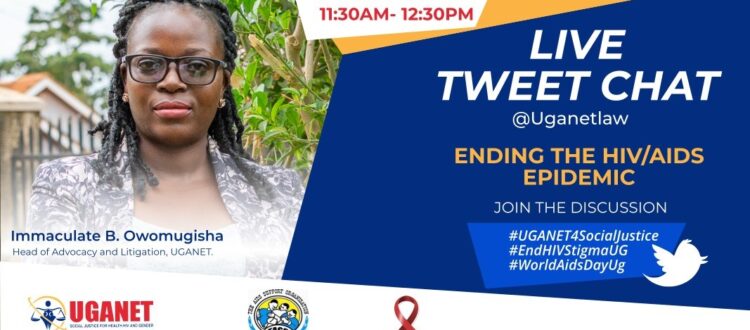 More Efforts Being Made to End Stigma and Discrimination Among PLHIV in Uganda
Kampala, Uganda – On December 3rd, 2020, the Uganda Network on Law, Ethics & HIV/AIDS (UGANET) hosted and conducted a live tweet chat on 'Ending the HIV/AIDS Epidemic'.
The tweet chat, moderated by Immaculate Owomugisha, Head of Advocacy & Litigation at UGANET, aimed to discuss the issue of stigma and discrimination faced by People Living with HIV (PLHIV) in Uganda.
HIV-related stigma and discrimination refers to prejudice, negative attitudes and abuse directed at people living with HIV/AIDS.
Out of the estimated 1.4 million PLHIV, about 1.1 million are accessing antiretroviral treatment (ART). Despite the great success of enrolment of many PLHIV on treatment, stigma and discrimination remain a structural barrier to HIV prevention efforts in Uganda today.
Stigma and discrimination also hinder PLHIV from opening up about their status because of fear of discrimination or harsh judgement on basis of their HIV status.
Furthermore, this negative treatment of PLHIV keeps other people from getting tested and treated for HIV which may in the end lead to increase in new infections.
HIV stigma stems from the fear of HIV and the association of HIV with suffering and death. There are also still misconceptions about how HIV is transmitted and what it means to live with HIV today.
UGANET is advancing the conversation on HIV to normalize the subject. By inviting the public to ask questions as was done in the tweet chat, an opportunity is created to correct misconceptions and help others learn more about HIV.
UGANET also has a team of counsellors who offer psychosocial support to those facing stigma and discrimination.
Although Uganda has made significant progress in reduction of stigma and discrimination against the PLHIV, (external stigma and discrimination reduced from 24% in 2013 to 1.3% in 2019), more efforts are required especially in reduction of internal stigma. UGANET is calling upon the lawmakers to work together to revise the laws that are criminalizing PLHIV. In addition, it is also calling upon the government to prioritise funding for HIV related programs to ensure access to treatment and other health services for people living with HIV in our communities.